---
Welcome to F3history.co.uk, this site is dedicated to preserving the history of the first 50 years of Formula Three racing from its start in 1950 with the 500s to the domination of Dallara in 2000.

For more details of what this site is all about and for the latest additions please check out the News section.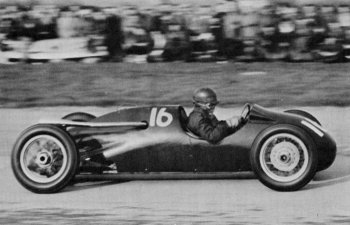 A 1951 Kieft shows the typical lines of a 500cc F3.
Formula 3 has always been a breeding ground for Champions and the vast majority of top drivers from Europe, South America and Japan over the last forty years made their name racing these wonderful cars. The pictures on the right are a roll call of World Champions all of whom first drew attention to themselves with their F3 successes.
It's not only F3 drivers whose names resonate through motorsport history: Lotus, Brabham, March, Chevron, Ralt, Dallara, Martini are just some of the manufacturers that have won a huge number of races through the first five decades that F3 has been part of the racing scene.
Tony Trimmer and James Hunt lead the field at Crystal
Palace in 1970.
Here are a few sections you might want to check out:
Manufacturers:
From Abbott to Zimspeed, a fully illustrated database of the 202 manufacturers who built F3 cars between 1964 and 2000.
Coming soon, the F3 500s from 1950 to 1960
Championships:
Championship tables for each year covering the UK, Germany, Italy, France, Japan, Scandinavia and the European Championship as well as many others.
Races:
A record of all the F3 races with grids, results, pictures and write ups.
Currently 1971 to 1975 is available but more will be coming as fast as I can add them.
As it was, March, Chevron and Ralt, Thruxton 1979.
This website is all about the fun and excitement of F3 racing and it will eventually contain a huge amount of information. For further details of where this site stands now and how you can contribute to its continued growth please look at the News section.

The late nineties and it's Dallaras as far as the eye can see.